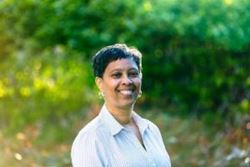 De-escalating traffic stops
Jacquelyn Carter is a problem solver and a change agent. She has served as a Church Administrator for 15 years, received a BS in Criminal Justice, a MS in Legal Studies, and a MPA with a concentration in Criminal Justice, all with a 4.0 GPA.
In 2016, her and her husband relocated to Alexandria, Virginia, where she served as a Grand Jury Court Reporter in Washington, DC, and Northern Virginia. During that time, she became enthralled in the injustices that were occurring in our country, especially around traffic stops. Instead of continuing to talk about the problem, she created a solution called Not Reaching to de-escalates traffic stops by eliminating movement and reaching which makes police officers nervous.
Her goal is to educate, train, and make all drivers aware of the proper procedures of traffic stops to ensure that both the officer and driver remain safe and go home without incident after a routine traffic stop.
---