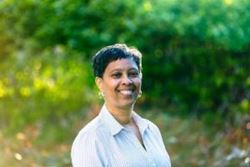 Jacquelyn Carter
In 2016, Jacquelyn Carter and her husband relocated to Alexandria, Virginia, where she served as a grand jury court reporter in Washington, D.C., and Northern Virginia. She became focused on the injustices occurring across the country, particularly those related to traffic stops. She decided it wasn't enough to talk about these issues. She needed to work toward solving them.
To help de-escalate the tension of traffic stops, Carter created Not Reaching, a document holder for the dashboard designed to eliminate the movement that makes police officers nervous.
Her goal is to make all drivers aware of proper traffic stop procedures to ensure that both officer and driver remain safe and proceed on their way after a routine traffic stop.
---