EmPOWERED to Serve Business Accelerator™ Faith-Based
Supporting institutions and innovators of faith who've been on the front lines of the COVID-19 crisis.
2021 Eastern States Faith-Based Accelerator Candidates
Reverend Darrell Armstrong
Reverend Darrell Armstrong, Shiloh Community Development Corporation, New Jersey
The Rev. Darrell L. Armstrong is in his 21st year as pastor of the Shiloh Baptist Church, the oldest Black Baptist church in Trenton, New Jersey.
Armstrong is intimately acquainted with JEDI — issues of justice, equity, diversity and inclusion. A Los Angeles native, he and his family were part of the first wave of busing in the 1970s to integrate the Los Angeles Unified School District.
He and his three younger brothers also spent most of their childhoods in foster/kinship care through the Los Angeles Department of Children and Family Services.
Armstrong's policy training at Stanford University (where he earned a bachelor's degree in public policy), his theological training at Princeton Theological Seminary (master's in divinity) and his clinical training at The College of New Jersey (post-master's Ed.S. in marriage and family therapy) has made him a respected voice in the national and international child welfare and family well-being communities.
Now, he's pursuing a doctorate in social work at the University of Southern California, where his dissertation work focuses on developing trauma-informed, resilient houses of worship and communities.
In 2016, he was appointed chief administrative officer to the United Nations for the Baptist World Alliance, the world's largest umbrella organization of Christians of Baptist heritage (47 million globally).
He's a board member of several organizations committed to JEDI for Black, Indigenous and other people of color:
Princeton Theological Seminary
Center for Theological Inquiry
Stanford University's Founding Grant Society
American Professional Society on the Abuse of Children
Faith Leaders Against Abuse In The Home
Armstrong is a life member of the NAACP and Stanford Alumni Association, and a member of Phi Beta Sigma Fraternity Inc., the only Black Greek-letter organization to have five heads of state as members.
Armstrong is also the father of two teenagers.
Pastor Barbara Palmer
Pastor Barbara Palmer, Kingdom Kare, Inc., Maryland, 2nd Place Grant Recipient
Barbara Palmer is an ordained pastor who works in ministry alongside her husband, Bishop Antonio Palmer, at Kingdom Celebration Center in Odenton, Maryland.
Palmer began her professional career as an accounts supervisor for major airlines before "taking a leap of faith" into the nonprofit sector as director of programs for a local organization. That move ignited her passion to work with women, youth and children — and led her to play an instrumental role in expanding after-school programs for youth in Anne Arundel County.
In 2011, Palmer started her nonprofit Kingdom Kare Inc. with a mission to nurture and empower children and their families to pursue their dreams. Kingdom Kare focuses on three areas: early childhood education, family support center-parenting and mentoring.
The nationally accredited Kingdom Kare Childcare Center includes 21 full-time staff, three part-time staff and five volunteers. The center was recently awarded a Legislative Bond Bill to open the West County Family Support Center, which provides prevention-oriented programs to strengthen families and offers a place for teen mothers to obtain their high school diploma.
Palmer also partners with several county agencies to provide food distribution to 1,500 people in the community each Monday.
Palmer has bachelor's degrees in bank finance, divinity and early childhood education administration, and a master's in pastoral counseling. Later this year, she'll begin work on her Ph.D. in counseling.
She's also certified in small business management and as a life coach and belief therapist.
Palmer, board president for the National Early Childhood Program Accreditation, was named to Who's Who Among International Executive Women in 2005-06.
Bishop Dr. Abraham Shanklin Jr.
Abraham Shanklin, The Center of Transformation Maryland, 3rd Place Grant Recipient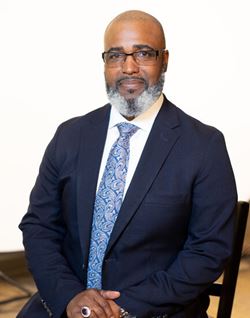 Bishop Dr. Abraham Shanklin Jr. has served in ministry for over 30 years, including 27 as a pastor leading people into vision, value and virtues.
He is the founding president of The Center of Transformation in Hanover, Maryland. The organization provides education in areas including ministry, health, community and personal development. It's the parent organization to New Life Fellowship International Ministries, New Life Academy, New Momentum Health & Wellness and New Image Development Corporation.
A man of God, Shanklin passionately serves Jesus Christ and leads others to him. An anointed and gifted teacher, preacher, motivational speaker and leader, he's known for his down-to-earth and realistic approach to inspiring people.
Shanklin teaches the principles of how to build character and confidence, while expanding the Kingdom agenda and navigating a path to success. He's committed to mentoring men and women to reach their callings.
He earned a doctorate in theology and a Ph.D. in clinical Christian counseling at Chesapeake Theological Seminary in Ellicott City, Maryland, and Andersonville Theological Seminary in Camilla, Georgia.
In 1994, with a vision to build and rebuild lives, Shanklin founded New Life Fellowship International Ministries. Since, the church has implemented outreaches that have impacted the region, country and world.
In his many roles as a minister and civic leader, Shanklin continues to organize, conduct and lead teachings in personal, church and leadership development.
Shanklin is the First Presiding Bishop of Global Harvest Covenant Network of San Diego. He's been an instructor in systematic theology at the New Hope Bible Crusade College and Seminary in Baltimore and adjunct professor for the Chesapeake Bible College & Seminary in Greensboro, Maryland.
Shanklin is also a licensed clinical pastoral counselor, board-certified Christian counselor and author of "The Best Man Project — Redefining Godly Manhood and Masculinity."
Shanklin and his wife of 35 years reside in Hanover and have four children.
Pastor John Udo-Okon
Pastor John Udo-Okon, Word of Life International, New York, Fan Favorite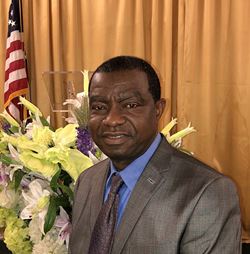 The Rev. John S. Udo-Okon is senior pastor and executive director of Word Of Life International Inc., a community outreach and development corporation based in the South Bronx, New York City.
Together with his wife, the Rev. Felicia Udo-Okon, he has devotedly worked with his congregation to fight hunger and poverty in New York City. Thousands of New Yorkers are served monthly in their program.
Udo-Okon is also an executive fellow of the class of 2007-08 Nonprofit Leadership Development Institute of the United Way of New York City.
In 2008, Udo-Okon completed the Executive Leadership Certificate Program at the Support Center for Nonprofit Management in New York City. In 2010, he also completed mentoring supervision training with Big Brothers Big Sisters of New York City.
Word Of Life International has become a beacon of hope in the South Bronx, continually providing meaningful services that sustain lives and support independent and productive living.
As executive director, Udo-Okon is responsible for the organization's day-to-day management. He is also the lead for South Bronx Coalition Against Food Insecurity, a growing grassroots body of more than 20 organizations working on local solutions to end hunger.
Pastor Cynthia Wallace
Pastor Cynthia Wallace, Bible Center Church, Pennsylvania, 1st Place Grant Recipient
Cynthia M. Wallace is executive pastor of Bible Center Church in Pittsburgh and executive director of The Oasis Project, the church's community and economic development division.
The Oasis Project has several after-school and summer youth programs, a transportation company, a property maintenance and management business and three food-related venues: Everyday Café, Oasis Farm and Fishery, and Oasis Community Kitchen.
Before moving to Pittsburgh in 2004, Wallace was a principal in Ann Arbor, Michigan, public schools and the co-founder and principal of Genesis Christian Academy. From 2007 to 2013, she was principal of Pittsburgh Montessori, a prekindergarten to eighth-grade school.
In 2013, she retired from public schools to pursue additional education and urban ministry work.
She earned a bachelor's degree in behavioral sciences from the University of Chicago and a master's degree in educational administration from the University of Michigan. She also has a master's degree in marriage and family counseling from Geneva College in Pennsylvania and a doctorate in school leadership from the University of Pittsburgh.
Wallace has also been an adjunct professor in the teacher education departments at Concordia University in Ann Arbor and at Carlow University in Pittsburgh. She's a National Certified Counselor (NCC) and worked from 2016 to 2020 as a part-time therapist with children and families in Homewood, Pennsylvania.
Wallace has recently joined the national faculty for Made to Flourish, where she trains pastors in helping their congregations understand God's perspective on economics and the connection between faith and work. She's also the co-city director of the organization's Pittsburgh network of pastors.
Wallace has been married for over 30 years and has four adult children.
Pittsburgh Pastor Receives Top Grant at the First EmPOWERED to Serve Business Accelerator™ Faith-Based
The American Heart Association, the world's leading nonprofit organization focused on heart and brain health for all, announced the top awardees of its first-ever EmPOWERED to Serve Business Accelerator™ Faith-Based hosted by the Eastern States region. The first-place grant of $50,000 was awarded to Pastor Cynthia Wallace of Bible Center Church in the Homewood neighborhood of Pittsburgh, Pennsylvania for their work aimed at addressing food access and insecurity through innovation and an entrepreneurial spirit.