Destiny Aponte
Manafestiny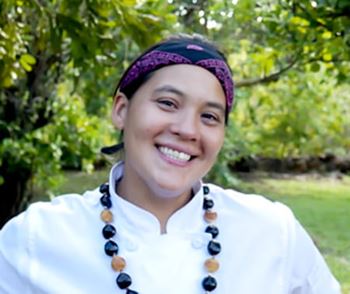 Destiny Aponte is the owner of Manafestiny, named for the belief that people are capable of manifesting their own destiny through mana, the spiritual energies that guide it.
Destiny grew up in San Antonio, Texas. Since she was a child, she knew she wanted to be a chef. To live out this destiny, she moved to New York City at 18 years old where she worked as a chef for 12 years.
She then moved to Hawai'i where she offered catering services on boats in O'ahu. Next, she went on to be a chef in Lana'i and a personal chef in Maui. From there, she started farming and working to combat food insecurity.
Manafestiny is a community enrichment program. Destiny is turning her food truck into a mobile food pantry that allows her to feed the community. She is also offering farm-to-table culinary classes to teach nutrition and self-sufficiency through the Grow Your Roots program.
Manafestiny funds these programs through monthly farmraisers, farm products and CSA meal boxes, from which 100% of the net profits are donated to help rebuild the local food economy while increasing food accessibility.
---