TOP FINALIST - $25,000 grant / FAN FAVORITE - $5,000 grant
Austin Avery III | Original Project Team Foundation Inc.
Austin Avery III of Memphis, Tennessee, chief executive officer of the Original Project Team Foundation Inc., has collaborated with the American Heart Association, Christ Community Health Services and other organizations in Shelby and DeSoto counties to improve neighborhoods. They do so by establishing beautiful, properly managed, virtually zero-waste "sustainability hubs" in overlooked or under-served areas. These hubs empower residents to participate in fostering the change they want to see. Austin has more than 25 years of information technology and project management experience. He's also a veteran who was awarded three Navy Achievement Medals.
1st RUNNER-UP - $15,000 grant
Nikki Wallace | Sisters Innovating Science
Nikki Wallace is the founder and major partner for Sisters Innovating Science (SIS). Based in Memphis, Tennessee, the company focuses on increasing STEM participation among marginalized or under-resourced people by training science educators in problem-based learning, inquiry lab design and curriculum development. She graduated from the University of Memphis with a bachelor's degree in biology and Grand Canyon University with a master's degree in science education. She's been featured in XQ America, PopUp Magazine and The Daily Memphian for her work with Crosstown High School and the STEM in Medicine Ecosystem, both in Memphis.
2nd RUNNER-UP - $10,000 grant
Sarah Rhoads | University of Tennessee Health Science Center College of Nursing
Sarah Rhoads is a researcher and educator who focuses on the impact of connected technologies on health care professionals and patient-centered care, particularly in rural areas. She joined the University of Tennessee Health Science Center's College of Nursing in 2018 as a professor in the Center for Community and Global Partnerships and joint appointments in the obstetrics and gynecology department at the College of Graduate Health Sciences. She's also chair for the Community and Population Health Department in the College of Nursing. Before joining the UTHSC faculty, Sarah was director of the South Central Telehealth Resource Center, education director for the Center for Distance Health and associate professor in the obstetrics and gynecology department at the University of Arkansas for Medical Sciences. Sarah received bachelor of science, master of nursing science and doctorate in nursing degrees from UAMS. She received her doctorate of nursing practices from UTHSC. She's been primary investigator on multiple grants related to telehealth, several of them involving the Mississippi River Delta region.
FINALIST
Nita Black | OZB Consulting Inc.
Nita Black is a co-founder and chief executive officer of OZB Consulting Inc., a consulting services company in Memphis, Tennessee, that supports economic growth in opportunity zones and other distressed communities. One current OZB project involves using drones to broaden access to medical supplies, health care and heart-healthy foods. Nita's community leadership roles include former chair of the City of Memphis Minority Business Development Oversight Commission and past president of the National Association of Women Business Owners-Memphis Chapter. She's currently vice chair of the Economic Development Growth Engine Finance Committee, reviewing and approving grants and loans to small businesses in underserved areas in the Memphis and Shelby County area. Her goal is to move more Mid-Southerners to middle-income lives. She's passionate about creating an equal playing field so the voices and the rights of women and minorities can be heard.
FINALIST
Nick Wiggins | Wolf River Conservancy
Nick Wiggins, a Memphis, Tennessee, native, serves as the community conservation manager for the Wolf River Conservancy and Wolf River Greenway Trail, overseeing outreach, volunteer and recreational/educational programs. The Wolf River Conservancy is an accredited land trust that's been protecting and enhancing the Wolf River Watershed in three counties and two states since 1985. Its signature project is the Wolf River Greenway Trail, a 12-foot-wide pedestrian and bicycle path along the Wolf River. In his three years with the Wolf River Conservancy, Nick has engaged more than 1,000 users through 100 new programs and volunteer opportunities along the trail. Nick holds two degrees from the University of Memphis, in history and in city and regional planning, and is a certified park and recreation professional though the National Parks and Recreation Association. He's always had a passion for bettering the community, serving with AmeriCorps for two years in Memphis and Los Angeles, and painting more than 50 murals at five schools.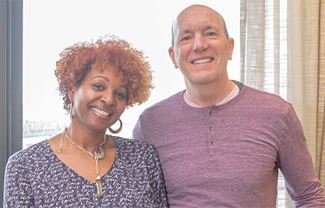 Supported by
John and Leslie Daniel and First Horizon Foundation