Roland Martin, host and managing editor of #RolandMartinUnfiltered.
2019 Business Accelerator Finale Host
Roland Martin is the host and managing editor of #RolandMartinUnfiltered, the first daily online show in history focused on news and analysis of politics, entertainment, sports, and culture from an explicitly African American perspective.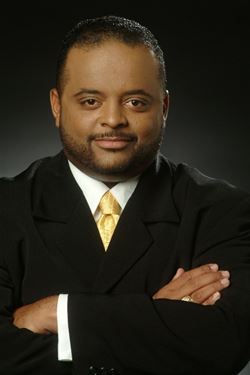 Since 2008, Martin has been a senior analyst for the Tom Joyner Morning Show, where his daily segment is heard on-air at more than 100 stations and reaches 8 million people daily.
He is the author of three books: Listening to the Spirit Within: 50 Perspectives on Faith; Speak, Brother! A Black Man's View of America; and The First: President Barack Obama's Road to the White House as originally reported by Roland S. Martin and has been named four times by Ebony Magazine as one of the 150 Most Influential African Americans in the United States. When Jet Magazine readers voted in 2012 for who they turn to on issues of concern to African Americans, Martin came in on top, ahead of the likes of the Rev. Al Sharpton and Donna Brazile.
In his career, Martin has earned more than 30 awards for journalistic excellence, including the 2008 President's Award by the National Association of Black Journalists for his work in multiple media platforms. In 2008, he was also inducted into the Texas A&M University Journalism Hall of Honor.
He is a four-time NAACP Image Award winner, including named Best Host for the last two years.
Mr. Martin is a life member of the National Association of Black Journalists, and a life member of Alpha Phi Alpha Fraternity, Inc. and a 1991 graduate of Texas A&M University, where he earned a Bachelor of Science degree in journalism.
He is married to the Rev. Jacquie Hood Martin, and they reside in Washington, D.C. area.