EmPOWERED to Serve Business Accelerator Puerto Rico
The National EmPOWERED to Serve Business Accelerator empowers and invests in social entrepreneurs and businesses focused on improving access to equitable health in America.

The Puerto Rico accelerator focused solely on businesses impacting the Puerto Rican population through business training and grant funding.
Meet the Candidates
Dr. Joel Acevedo- Nieto - Sharp Focus, $10,000 award
Dr. Joel Acevedo- Nieto is the founder of Sharp Focus, a cognitive training platform for those who have difficulty concentrating. Joel's concept uses a virtual reality interface that engages users by stimulating the prefrontal cortex via intentional eye movements. During his childhood and adolescence, Joel had difficulty concentrating on daily tasks and school work. As a result, he lagged behind in many areas and struggled with low self-esteem. But with an exemplary background in neuroscience and psychology, Joel has earned several certifications in innovation and technology from MIT and Harvard Medical School.
para español
Ganador de la Subvención de $10,000.00
Dr. Joel Acevedo- Nieto es el fundador de Sharp Focus, una plataforma de entrenamiento cognitivo para aquellos que tienen dificultades para concentrarse. El concepto de Joel utiliza una interfaz de realidad virtual que cautiva los usuarios al estimular la corteza prefrontal mediante movimientos oculares intencionales.

Durante su infancia y adolescencia, Joel tuvo dificultades para concentrarse en actividades de la vida diaria y el trabajo escolar. Por ende, se retrasó en muchas áreas y luchó con baja autoestima. Pero con una experiencia ejemplar en neurociencia y psicología, Joel ha obtenido varias certificaciones en innovación y tecnología de MIT y Harvard Medical School.
News and Updates
2020 National Business Accelerator participant
---
Ana Yris Guzman- Nuestra Escuela, $500 award and fan-favorite
Ana Yris Guzman co-founded Nuestra Escuela (Our School) with her husband, Justo Méndez Arámburu, in 2000. (They also promoted the model in Shule Yetu, the headquarters of Nuestra Escuela in Africa.) Nuestra Escuela includes democratic practices in which students learn the political process. Ana is also the president of the Board of Directors of the Una Sola Voz Movement, an organization that brings together community service groups. She's on the IDEA Board of Directors and Global Board of Aflatoun International. Over the past 19 years, Ana's commitment to creating life-changing opportunities has impacted the lives of thousands of children and youth in Latin America and on five continents.
para español
Ganadora del incentivo de $500.00, Favorita del Público
Ana Yris Guzmán fundó Nuestra Escuela junto con su esposo, Justo Méndez Arámburu, en el año 2000. (También promovieron el modelo en Shule Yetu, la sede de Nuestra Escuela en África). Nuestra Escuela incluye prácticas democráticas en las que los estudiantes aprenden el proceso político. Ana también es presidenta de la Junta Directiva del Movimiento Una Sola Voz, una organización que reúne a grupos de servicio comunitario. Ella está en la Junta Directiva de IDEA y en la Junta Global de Aflatoun International. En los últimos 19 años, el compromiso de Ana de crear oportunidades que cambian la vida, ha impactado las vidas de miles de niños y jóvenes en América Latina y en los cinco continentes.
News and Updates
---
Mason Lucich-Insu Health Design, Inc.
Mason Lucich is co-founder and CEO of InsuHealth Design, Inc. With an impressive background in mechanical engineering and industrial design, he leads product and technology development for InsuHealth. Passionate about solving problems, Mason participated in a project with the Innovation Center at the University of Puerto Rico at Rio Piedras. His team created a way to protect and sustain bio-medicine users, in particular insulin users. Their product, a handheld tool that keeps medicines refrigerated without being connected to a power source, was particularly compelling after the devastation and long power outages caused by hurricanes Harvey and Maria.
para español
Mason Lucich es cofundador y CEO de InsuHealth Design, Inc. Con una impresionante experiencia en ingeniería mecánica y diseño industrial, lidera el desarrollo de productos y tecnología para InsuHealth.
Apasionado por la resolución de problemas, Mason participó en un proyecto con el Centro de Innovación de la Universidad de Puerto Rico en Río Piedras. Su equipo creó una forma de proteger y mantener a los usuarios de biomedicina, en particular a los usuarios de insulina. Su producto, una herramienta portátil que mantiene refrigerados los medicamentos sin estar conectados a una fuente de energía, fue particularmente cautivador después de la devastación y los largos apagones causados por los huracanes Harvey y María.
News and Updates
2020 National Business Accelerator participant
---
Dolmarie Mendez-Abartys Health, $5,000 award
Dolmarie Mendez is the CEO of Abartys Health, a health technology company that centralizes and improves health care processes for insurers. The company, which has raised almost $6 million in Puerto Rico, expanded in the United States and is partnering with international entities to increase democratization of clinical data. Dolmarie believes quality health care is a right for all. She is one of the top health care systems experts in Puerto Rico and among the first compliance officers to implement the Patient Protection and Affordable Care Act.
para español
Ganadora de la subvención de $5,000.00
Dolmarie Mendez es la directora ejecutiva de Abartys Health, una compañía de tecnología de la salud que centraliza y mejora los procesos de atención médica para las aseguradoras. La compañía, que ha recaudado casi $ 6 millones en Puerto Rico, se expandió en los Estados Unidos y se está asociando con entidades internacionales para aumentar la democratización de los datos clínicos.
Dolmarie cree que la atención médica de calidad es un derecho para todos. Es una de las principales expertas en sistemas de atención médica en Puerto Rico y se encuentra entre los primeros oficiales de cumplimiento en implementar la Ley de Protección al Paciente y Atención Asequible.
News and Updates
---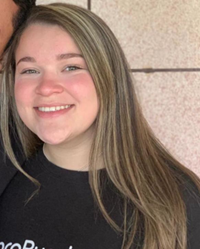 Sofía Alejandra Santana Ramos- AgroRuedas
Sofía Santana, a finance and marketing student at the University of Puerto Rico, Río Piedras, is a project manager for AgroRuedas. The socially focused agribusiness provides a produce delivery service from the Río Piedras marketplace to consumers in the metropolitan area. They created this approach to revitalize the marketplace, transform the placeros' mindsets, and help Río Piedras build a vibrant economy. In Puerto Rico, "Placero" is the name given to the vendor / grocer at the marketplace.
para español
Sofía Santana, estudiante de finanzas y mercadeo en la Universidad de Puerto Rico, Río Piedras, es gerente de proyectos para AgroRuedas. El agronegocio socialmente enfocado proporciona un servicio de entrega de productos desde el mercado de Río Piedras a los consumidores en el área metropolitana. Crearon este enfoque para revitalizar el mercado, transformar la mentalidad de los placeros y ayudar a Río Piedras a construir una economía vibrante. en Puerto Rico, "Placero" es el nombre que se le da al vendedor en el mercado.
News and Updates