Dr. Abraham Shanklin The Center of Transformation, Maryland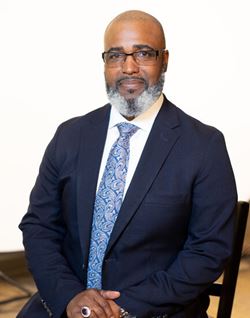 Bishop Dr. Abraham Shanklin Jr. has served in ministry for over 30 years, including 27 as a pastor leading people into vision, value and virtues.
He is the founding president of The Center of Transformation in Hanover, Maryland. The organization provides education in areas including ministry, health, community and personal development. It's the parent organization to New Life Fellowship International Ministries, New Life Academy, New Momentum Health & Wellness and New Image Development Corporation.
A man of God, Shanklin passionately serves Jesus Christ and leads others to him. An anointed and gifted teacher, preacher, motivational speaker and leader, he's known for his down-to-earth and realistic approach to inspiring people.
Shanklin teaches the principles of how to build character and confidence, while expanding the Kingdom agenda and navigating a path to success. He's committed to mentoring men and women to reach their callings.
He earned a doctorate in theology and a Ph.D. in clinical Christian counseling at Chesapeake Theological Seminary in Ellicott City, Maryland, and Andersonville Theological Seminary in Camilla, Georgia.
In 1994, with a vision to build and rebuild lives, Shanklin founded New Life Fellowship International Ministries. Since, the church has implemented outreaches that have impacted the region, country and world.
In his many roles as a minister and civic leader, Shanklin continues to organize, conduct and lead teachings in personal, church and leadership development.
Shanklin is the First Presiding Bishop of Global Harvest Covenant Network of San Diego. He's been an instructor in systematic theology at the New Hope Bible Crusade College and Seminary in Baltimore and adjunct professor for the Chesapeake Bible College & Seminary in Greensboro, Maryland.
Shanklin is also a licensed clinical pastoral counselor, board-certified Christian counselor and author of "The Best Man Project — Redefining Godly Manhood and Masculinity."
Shanklin and his wife of 35 years reside in Hanover and have four children.
---