Pastor Barbara Palmer, Kingdom Kare, Inc., Maryland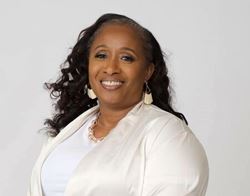 Barbara Palmer is an ordained pastor who works in ministry alongside her husband, Bishop Antonio Palmer, at Kingdom Celebration Center in Odenton, Maryland.
Palmer began her professional career as an accounts supervisor for major airlines before "taking a leap of faith" into the nonprofit sector as director of programs for a local organization. That move ignited her passion to work with women, youth and children — and led her to play an instrumental role in expanding after-school programs for youth in Anne Arundel County.
In 2011, Palmer started her nonprofit Kingdom Kare Inc. with a mission to nurture and empower children and their families to pursue their dreams. Kingdom Kare focuses on three areas: early childhood education, family support center-parenting and mentoring.
The nationally accredited Kingdom Kare Childcare Center includes 21 full-time staff, three part-time staff and five volunteers. The center was recently awarded a Legislative Bond Bill to open the West County Family Support Center, which provides prevention-oriented programs to strengthen families and offers a place for teen mothers to obtain their high school diploma.
Palmer also partners with several county agencies to provide food distribution to 1,500 people in the community each Monday.
Palmer has bachelor's degrees in bank finance, divinity and early childhood education administration, and a master's in pastoral counseling. Later this year, she'll begin work on her Ph.D. in counseling.
She's also certified in small business management and as a life coach and belief therapist.
Palmer, board president for the National Early Childhood Program Accreditation, was named to Who's Who Among International Executive Women in 2005-06.
---