National EmPOWERED to Serve Business Accelerator

™
Uniquely positioned to help social entrepreneurs and innovators post COVID-19 to make maximum impact in their communities.
2021 EmPOWERED to Serve
Business Accelerator™
Application Hub
This is the fifth year of the National EmPOWERED to Serve™ Business Accelerator™.
Since inception of the Business Accelerator program in 2018, American Heart Association has contributed more than $510,000 to help accelerate start-ups, social entrepreneurs and organizations improving social determinants of health in their community, which are health risk factors, especially for underserved populations.
The 2021 Business Accelerator application cycle opens May 3, 2021.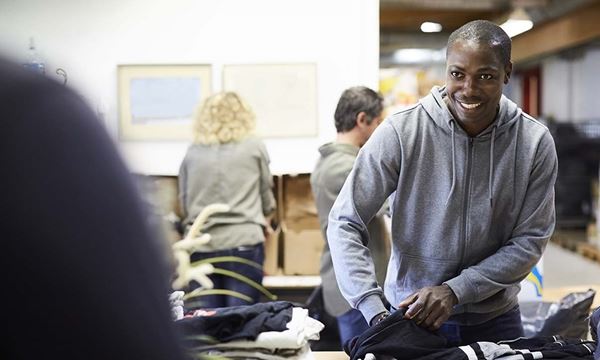 2019 Business Accelerator Alumna Shares Her Experiences
Brittany Young, founder of B 360, in Baltimore, MD, talks about her experience as a 2019 Business Accelerator candidate.
The next application cycle will starts May 3, 2021.
The 2019 EmPOWERED to Serve Business Accelerator innovators
First-place recipient Russell Fearon was awarded a $50,000 grant plus an additional $5,000 for receiving the most fan votes for his diabetes management wearable device.
Second-place recipient Jeremy Goss received a $20,000 grant in support of The Link Market, which addresses food insecurity and transportation barriers by providing affordable groceries at metro stations.
Congratulations to the 2020 EmPOWERED to Serve Business™ Accelerator Grant Recipients
Abigail Kohler, co-founder of ResusciTech, was awarded a $40,000 grant to empower people to save lives by taking action during medical emergencies. ResusciTech's app, SMART Certification, offers convenient, smartphone-based training that provides Hands-Only CPR compression practice with real-time feedback.
Runner-up and Fan Favorite Prathamesh Prabhudesai, co-founder of SafeBVM, received a total grant of $20,000. SafeBVM focuses on preventing human error and provider-associated complications of manual ventilation that worsen patient outcomes and increase health care costs. The device helps providers deliver safe, optimal manual ventilation to people in cardiac arrest and respiratory distress.
Since we launched four years ago we have:
Made a health impact through organizations that address food insecurity, transportation, access to healthcare, STEM, youth education and more.
Trained 45 social entrepreneurs
who want to help improve
communities.
Provided almost
$550,000 in
grant funding.
Alumni Impact
These stories feature the critical impact the Business Accelerator Alumni in local communities nationwide.
Watch EmPOWERED to Serve in Action
Community Transformation Roundtable | Renowned business leaders, community leaders, philanthropists and volunteers engage in a lively, meaningful discussion about transforming communities and removing health barriers through faith, finance and business.


Health Justice Roundtable | Scholars from our EmPOWERED to Serve and HBCU Scholars program engage in a lively, meaningful conversation about breaking down barriers to health, structural racism and how to make the world better.

Transforming communities through faith finance and business | Join the continued conversation on community transformation, prioritizing investments in under-resourced communities.

Second Empowered and Well Virtual Town Hall | Dr. Eduardo Sanchez, Dr. Jennifer Ellis, Pastor Sonjia Dickerson and Pastor Hosea Collins convened to continue the conversation about the impact of COVID-19 on our communities and what we can do to advocate for healthier, more equitable policies.

Inaugural Virtual Faith Community Town Hall meeting with Dr. Eduardo Sanchez, the AHA's chief medical officer for prevention, and Pastor Sonjia B. Dickerson of Dayspring Family Church in Dallas.
Statement of Relationship
YWCA SBDC is collaborative partner of the American Heart Association's EmPOWERED to Serve.