Pastor John Udo-Okon, Word of Life International, New York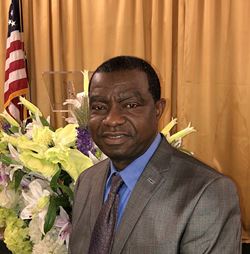 The Rev. John S. Udo-Okon is senior pastor and executive director of Word Of Life International Inc., a community outreach and development corporation based in the South Bronx, New York City.
Together with his wife, the Rev. Felicia Udo-Okon, he has devotedly worked with his congregation to fight hunger and poverty in New York City. Thousands of New Yorkers are served monthly in their program.
Udo-Okon is also an executive fellow of the class of 2007-08 Nonprofit Leadership Development Institute of the United Way of New York City.
In 2008, Udo-Okon completed the Executive Leadership Certificate Program at the Support Center for Nonprofit Management in New York City. In 2010, he also completed mentoring supervision training with Big Brothers Big Sisters of New York City.
Word Of Life International has become a beacon of hope in the South Bronx, continually providing meaningful services that sustain lives and support independent and productive living.
As executive director, Udo-Okon is responsible for the organization's day-to-day management. He is also the lead for South Bronx Coalition Against Food Insecurity, a growing grassroots body of more than 20 organizations working on local solutions to end hunger.
---