Together, we're relentlessly fighting COVID-19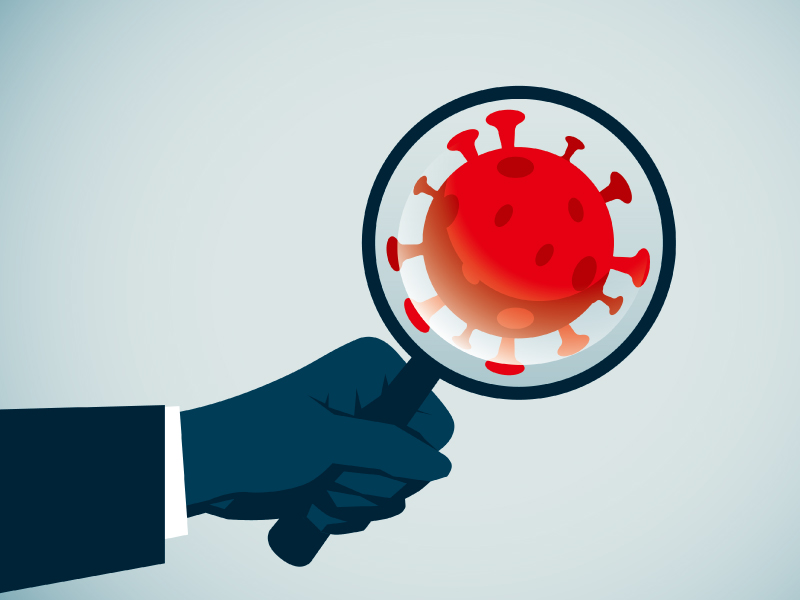 Tens of millions of Americans have been infected with COVID-19. Around 900,000 have died. Health care workers are overwhelmed. Life as we knew it has changed.
It's a trying time we're all navigating together.
While helping people stay healthy and deal with the pandemic every day by providing trustworthy information, and hosting virtual get-togethers and other important efforts, the AHA is also going deeper into the science of COVID-19, thanks to our dedicated supporters and generous donors.
As a science-based organization, we have nearly a century of experience using research to help patients with heart disease, survivors of stroke and millions of other people trying to live healthier. In the fight against COVID-19, our scientific efforts include three critical areas: a registry, research grants and resuscitation.
The COVID-19 Registry
Researchers have been working through mountains of COVID-19 data, studying situations that are entirely new, to better understand the disease and find new treatments.
For example, what exactly happens when the coronavirus infects a patient with heart disease or stroke? Or affects the heart or brain of a previously healthy person?
To answer these questions, the AHA launched its COVID-19 CVD Registry to help professionals on the front lines better understand treatment patterns and variations. The registry collects data from a large sample of patients — work that typically takes years. But we've accelerated work significantly in the pandemic.
The public needs and expects data analysis faster because things change at almost lightning speed.
The COVID-19 CVD Registry data comes from thousands of patient records from dozens of hospitals, and tens of thousands of lab reports.
The registry focuses on real-time data from hospitals to better help clinicians and researchers understand how to best treat COVID-19 patients. Enrollment is open to any hospital that would like to participate.
Research grants
Even as the scientific community moves urgently to find vaccines and treatments, many mysteries remain about how COVID-19 affects the heart and brain and why there are so obvious health disparities.
Accordingly, the AHA has invested $2.5 million to fast-track scientific research to better understand these medical and sociologic mysteries. The grants were awarded to teams at 12 institutions, with the Cleveland Clinic coordinating the scientists' work and facilitating the dissemination of the study findings. The projects include:
Evaluating the clotting complications of COVID-19 in hospitalized patients
Repurposing approved drugs for faster applications in treating COVID-19
Evaluating antihypertensive medication treatment in patients with confirmed COVID-19
Using deep learning techniques and chest X-rays to develop a new way to predict COVID-19 cardiopulmonary collapse and death
Understanding the cardiovascular effects of COVID-19 on African American women, who often face adverse health and economic disparities
Identifying those most at risk for COVID-19 and cardiovascular complications, seeking to develop the means for personalized medicine and future genomic testing and treatment
COVID's long-term impact. The AHA has also announced a $10 million research initiative to fund new studies into the long-term effects of the novel coronavirus and its impact on the cardiovascular and cerebrovascular systems.
The grants will fund investigations into the underlying basic mechanisms that cause cardiac, vascular and cerebrovascular complications among COVID-19 patients.
Studies may also examine why some people are more susceptible to the lingering effects of infection with the virus, well beyond the initial two- to three-week expected recovery period.
Projects with a strong focus on diverse populations will receive special consideration. Application deadline is Feb. 1. Awardees will be announced in March and the three-year studies will launch April 1. (Find more information about the grants and instructions for applying.)
Resuscitation
While the world's attention is on the COVID-19 pandemic, the fact remains that more than 350,000 cardiac arrests occur outside of a hospital annually, and about 90% of the victims die.
The AHA and other health organizations have developed and updated science-based interim guidance to help health care rescuers treat people experiencing cardiac arrest who have COVID-19. That guidance gives people the best possible chance for survival without compromising rescuers' safety, according to the AHA.
"We are teaching hospitals and communities how to safely and effectively administer CPR during COVID-19," said AHA CEO Nancy Brown. "This incredibly urgent need has only become more urgent during the pandemic."
CPR — chest compressions to get the heart beating again — can as much as triple the chances for survival. But many people are hesitant to perform CPR, especially during a pandemic.
The AHA has also established interim guidance to support its nearly 400,000 CPR Training Network instructors, with resources for in-person training that incorporates social distancing.
The AHA is dedicated to fighting COVID-19, but we can't do it alone. Learn how you can donate and keep our lifesaving work going strong.
---