PAD Toolkit for Health Care Professionals
Save the legs. Save the feet. Save the heart.
Featured Tools
PAD Go-To-Guide for Health Care Professionals
Our guide is an easy-to-use, interactive tool that empowers doctors and nurses to engage patients diagnosed with peripheral artery disease. Access resources and the AHA's latest patient engagement tools to deliver effective patient education.
Access now(link opens in new window) | Download now (PDF)
PAD Webinar
Amy Pollak, M.D., Mayo Clinic (cardiovascular medicine) speaks about detecting and diagnosing PAD, a disease that affects more than 113 million adults worldwide and over 8.5 million adults over age 40 in the United States. While it's a serious risk factor for coronary artery disease and cerebrovascular disease, PAD remains a largely overlooked condition.
PAD Fact Sheet
Help your patients understand the risk factors, signs and symptoms and treatments for PAD.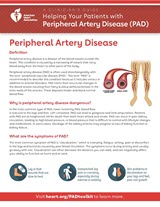 Talking to Your Patients About PAD
Remind your team that educating your patients about PAD and its treatments should begin with explaining the disease and its risks.
Additional Resources
---