Hispanic COVID-19 Vaccination Campaign
STAY FUERTE FOR ALL!
Stay Fuerte for All
Help your loved ones get vaccinated.
Everything you do is for your family and your community, aquí y allá.
You are a father, a mother, a sister, a son, a primo, an abuela, an amiga, o una Comadre. Everybody looks up to you, depends on you and needs you feliz … and strong. Show yours how to keep themselves safe in the uptick of COVID-19. Help them see why vaccinating is important for your health, jobs, collective economy and happiness.

Throughout history, systemic challenges have contributed to disparities that prevent some people from living long, healthy lives. Due to longstanding barriers and health inequities, such as a historic lack of access to health care and nutritious foods, the Hispanic community has been disproportionately affected by COVID-19. In fact, Hispanics are almost 2.5 times as likely to have died from COVID-19 than whites/non-Hispanics, when age is taken into account.

While the disproportionate impact of the pandemic is shining a national light on health inequities, according to the CDC, as of February 2022, Hispanics made up the largest share of the vaccinated population.

While misinformation about the COVID-19 vaccines is still widespread, we must continue to share scientifically vetted information with our friends and family to ensure that we protect our loved ones and our community. This is why the American Heart Association is committed to helping you Stay Strong for All by providing you with trustworthy, science-based information you can share with others.

Being vaccinated significantly reduces your risk of dying or being hospitalized from COVID-19. Keep that in mind as you weigh your decision, especially if you're at greater risk from high blood pressure or heart disease or are a heart attack or stroke survivor.

Like millions of Americans, you could be at higher risk for COVID-19 complications because of heart conditions, diabetes, high blood pressure, or obesity. Learning about the COVID-19 vaccine can be the first step toward getting back to your life. If you have questions about the COVID-19 vaccine, talk to your health care provider, health care team or pharmacist.
Learn More About COVID-19 Vaccination
COVID-19 Stay Fuerte for All

COVID-19 Myths Questions for Parents

COVID-19 Myths Are Vaccines Safe for Kids?

COVID-19 Myths Protecting Younger Children

COVID-19 Myths Is Getting a Vaccine Risky?

COVID-19 Myths Children and Fertility
There are powerful things we take for granted
Those small moments of joy that we share with the people we love. We all want to relive those moments. The choices we make impact the people we love. Your family trusts you, depends on you. Help them beat COVID-19 and get back to the moments you love. Stay Fuerte for All!
Achieving Vaccine Equity
Vaccine equity is when everyone has fair and just access to COVID-19 vaccination
The American Heart Association's 2024 Goal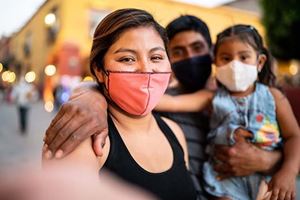 Every person deserves the opportunity for a full, healthy life. As champions for health equity, by 2024, the American Heart Association will advance cardiovascular health for all, including identifying and removing barriers to health care access and quality.
Things to know as we work together to attain vaccination equity
The facts about the COVID-19 vaccination and the Delta variant
The Delta variant, which now makes up nearly all U.S. COVID-19 cases, is more dangerous than the original COVID-19 virus and spreads more easily than the common cold.
The best way to protect ourselves against COVID-19, including the Delta variant, is by getting vaccinated.
Delta currently makes up 99.1 % of cases in the U.S., up from 31.1% in June.
Cases involving the Delta variant are increasing among the unvaccinated, in states with low vaccination rates and among younger adults.
Clearing up common COVID-19 vaccination misconceptions
The vaccines do not cost any money — and no special documentation (other than an ID for proof of age) is required.
Vaccines are safe for all people 12 years and older. This includes those who are pregnant, breastfeeding, trying to get pregnant now or planning to get pregnant later.
Serious breakthrough infections among the vaccinated are extremely uncommon.
Underlying medical conditions and health access among Hispanics
Underlying medical conditions and health access among Hispanics
The American Heart Association advocates at the federal, state and community levels for policies that address social determinants of health by ensuring that the health benefits extend to communities and populations most in need.
Latinos have higher rates of heart disease, high blood pressure, diabetes, and obesity. This is due in part to longstanding barriers and health inequities such as a historic lack of access to health care and nutritious foods. These health conditions have been associated with a higher risk of severe COVID-19 illness
Latinos have limited access to health care. In all age groups, Hispanics are much less likely than white /non-Hispanics to have health insurance coverage or a usual source of health care.
Home, work, and COVID-19
According to U.S. Bureau of Labor Statistics 2017 data, Hispanics are largely unable to work remotely, as they are more likely to have frontline jobs.
Only 16% of Latinos can work from home, compared with 31% of the overall population.
Frontline work limits the ability to practice social distancing and can contribute to the higher rates of COVID-19 seen among historically excluded communities