---
Meet some of the people feeding Americans during the pandemic
By Nancy Brown, American Heart Association CEO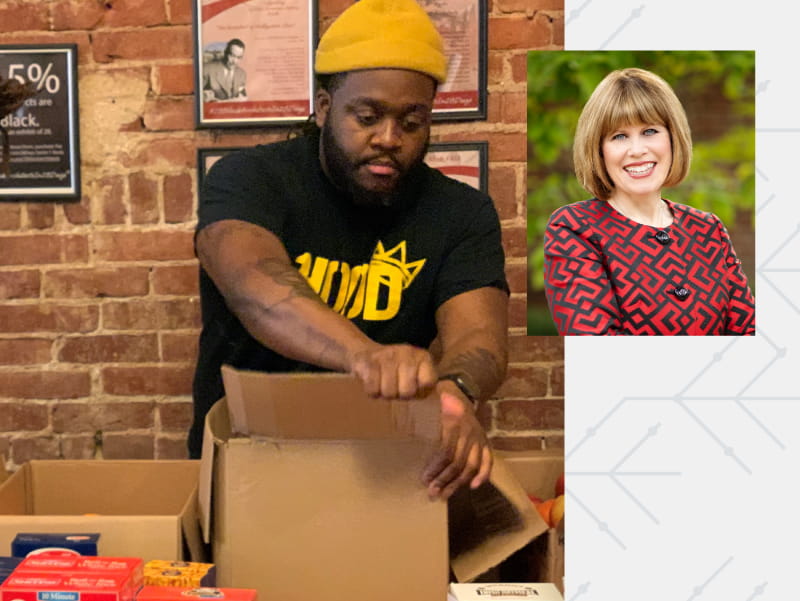 In the best of times, eating is a challenge for far too many Americans. Eating healthier is even tougher.
Now imagine what those folks are facing during this pandemic.
Dr. Jeremy Goss understands the struggle. So do Liz Abunaw and Claudy Pierre. Same with the leaders of Teens for Food Justice and of Food Forward.
From New York, Los Angeles, Chicago, St. Louis and Pittsburgh, these people and organizations have long been devoted to providing fruits and vegetables to people in areas that otherwise wouldn't have them.
All are stepping up again in this time of urgent need and drastic upheaval.
How? The way any great chef would. They're improvising.
Here are their stories.
***
When Jeremy Goss met the dean of Saint Louis University School of Medicine, he mentioned a desire to feed people in South America.
The dean pulled out a local map. He pointed to more than a dozen areas with limited access to affordable, fresh produce. They're called food deserts. St. Louis had so many that its rate of food insecurity was more than triple the national average.
Realizing he didn't need a passport to make a difference, and recognizing the depth of the challenge, Goss got to work.
In his third year of med school, he turned a city bus into a grocery store. He started a nonprofit organization called Link Market. Two years ago, it bought a mail truck to deliver produce to its stores, which are actually repurposed shipping containers. Link also used the truck to dabble in delivery, starting with senior centers.
In March, Link was supposed to expand its delivery program into many food deserts under a three-year grant from the local health department.
In April, Link was supposed to open a brick-and-mortar grocery store inside a housing project.
With COVID-19 putting both launches on hold, Goss came up with a Plan B. The housing project site became home base for an expanded delivery program. Working with city leaders, clergy and more, he's setting up drop-off spots wherever he can.
"We're at nine and counting," he said.
He also got word that the grocery store could start delivering to the housing project as soon as this week.
Customers place orders online or by phone. They're told when and where the truck will be in their area. They pay in cash, credit or government benefits. As always, prices are comparable to – and often better than – discount stores. There are no delivery fees. (Note: Last year, Link received $20,000 from my organization, the American Heart Association, through our Empowered to Serve Business Accelerator.)
"The pandemic hasn't changed what we do fundamentally," Goss said. "It's just been a reprioritization. Thankfully we already had our infrastructure in place."
There's one more fascinating layer to this: Goss is rarely in St. Louis.
After starting Link, he moved to Boston to do research through Harvard. Now he's in Connecticut as a resident at Yale. His specialty: Plastic and reconstructive surgery. Thus, in yet another way, he transforms the lives of those dealing with profound challenges.
***
A couple of years after graduating from the University of Chicago business school, Liz Abunaw made her first trek into the Austin neighborhood on the city's West Side.
Something struck her: the lack of grocery stores.
While the basics of supply and demand suggested opportunity, Abunaw also knew it would benefit the community.
In January 2018, she opened Forty Acres Fresh Market, a pop-up store in Austin offering fresh produce several times a month. Then she added another on the West Side. Then another.
In February 2018, she started offering recurring subscriptions and one-time deliveries.
"But I didn't really start promoting it until August 2019," she said.
As of March 13, she'd done a total of 97 deliveries and had six subscribers. That's after nearly two years of offering them.
Two weeks into the pandemic, she was pushing 300 deliveries and more than 40 subscribers.
The spike would be terrific for a business set up to handle it. But when the smallest part of your business becomes the only part overnight? They didn't teach that kind of pivot in business school.
"It's been a scramble," she said. "We've had to hire more delivery drivers, more staff for our warehouse, even get enough boxes to pack everything. Thankfully we sublet from a larger urban agricultural company. We saw them breaking down their boxes and screamed, 'We'll take them!'"
Abunaw's history suggests she'll figure it out. She's already earned more than $335,000 in grants, including $150,000 from the AHA's Social Impact Fund.
A key decision she made during the scramble was cutting the a la carte option for deliveries. Customers can only order baskets of all fruits, all vegetables or mixed.
Churches, after-school programs and other organizations have called seeking donations. Abunaw has connected some to her suppliers and told others, "If you can come pick it up yourself, you can take it."
"The need is everywhere," she said. "If we can help, then the chaos is worth it."
***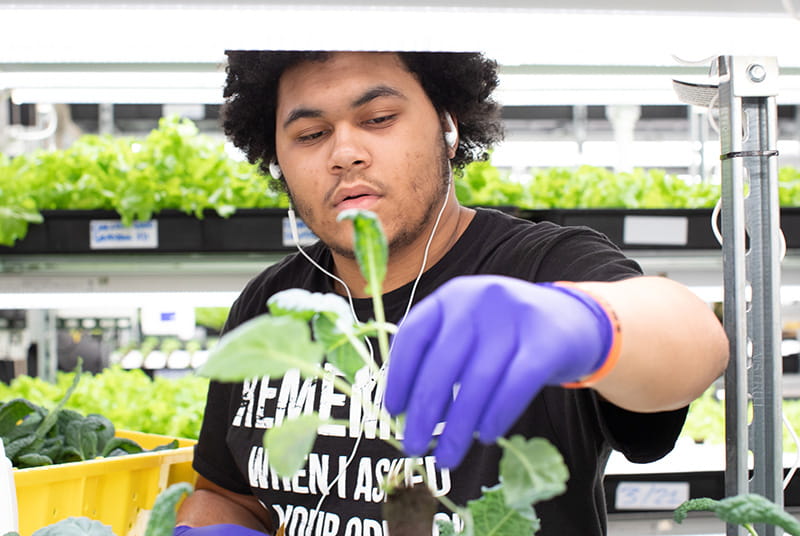 In the concrete jungle of New York City, it's nearly impossible to find enough dirt to plant a garden that could yield the variety of vegetables needed to create a salad – much less grow enough to create salads for hundreds of people.
But empty classrooms? Those can be found.
And they can be used for high-capacity hydroponic vegetable farms.
And teenagers can help harvest those veggies to stock their school cafeteria's salad bar, with enough leftovers for food pantries and student-run markets.
That's essentially the model of Teens for Food Justice, a nonprofit that began in Brooklyn in 2013 and has expanded into another Brooklyn location, Manhattan and the Bronx. Its four farms yield over 30,000 pounds of produce per year. (The group also has worked with the AHA to ask lawmakers for more healthy good options in their community.)
When New York schools closed, three TFFJ farms became collateral damage. Luckily, a Brooklyn school with a farm became a site for meal distribution, enabling the growing to continue, albeit without the teens.
From the shuttered farms, TFFJ harvested about 1,000 pounds of lettuce, microgreens, herbs and more. Some went to community partners, some to neighborhood families.
"None went to waste," said Katherine Soll, the organization's CEO and president.
Despite the cut in production, the group has found another way to feed the communities it serves – by leveraging relationships.
"A commercial hydroponic grower is giving us 200 to 250 pounds of lettuce per week for Brownsville, and we'll help divert whatever we don't need," Soll said. "We're in conversations with others for donations or deeply discounted produce."
Construction had begun on a fifth farm. Add that delay to the list of disappointments … and the list of lessons being learned.
"There are so many teachable moments coming out of this," Soll said.
***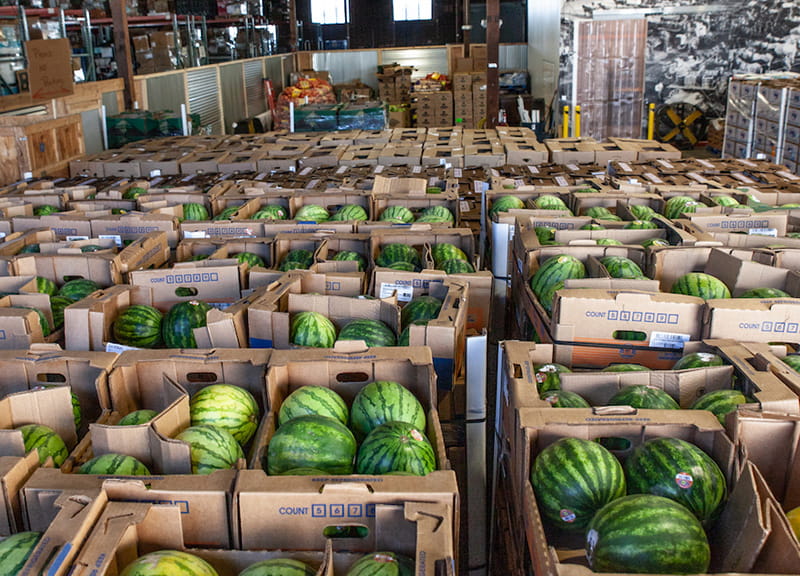 In 2009, Rick Nahmias marveled at how much fruit grew in his neighborhood in Valley Glen, California. From a single backyard, two people picked over 800 pounds – far more than any family could eat. So, he thought, why not make sure it gets to those who need it?
By the start of the pandemic, the organization that sprung from that question, Food Forward, had "rescued" over 90 million pounds of produce.
Instead of directly giving food to people, the nonprofit excels as a connector between growers and distributors. Through its three programs (Backyard Harvest, Farmers Market Recovery, and Wholesale Recovery), Food Forward supported over 230 agencies last year.
Last summer, the organization opened the "Produce Pit Stop," a 6,000-square-foot warehouse that had been a storage facility for the Air Force in the 1920s. Located 15 minutes from Los Angeles' Produce District, the warehouse receives pallets of individual fruits or vegetables.
Through Wholesale Recovery, Food Forward works with partners to further distribute produce through "Produce Pick-Ups." An example of how it works is that Food Forward delivers to the Watts Labor Community Action Committee and John C. Fremont High School in South Central. And 29 other hunger-relief agencies – and hundreds of individuals – go to those sites for their produce.
"It's normally done in the style of shopping at a grocery or farmer's market," said Pearson King, Food Forward's agency relations and field manager in charge of the Pick-Ups. "Now we've switched to pre-packed bags."
All existing partners have been scaled up to Rapid Response Hubs. Three more have been added.
"Some sites have estimated they're tripling the number of people they're seeing," King said.
Another push has come from smaller groups that occasionally relied on Food Forward. Some have become regulars. One organization, King said, visited four of its usual suppliers before arriving at the Produce Pit Stop with empty vans. (Food Forward also is among organizations working with the AHA to make healthy food more accessible through free A Tu Salud! Produce Markets and other programs.)
"We need to be agile and efficient to serve the folks who serve their communities," King said. "We know that economic and food access issues are usually about one paycheck behind. When that second paycheck is missed, the need is only going to grow."
***
After seeing his grandmother lose a leg to diabetes, chef Claudy Pierre decided to teach people in the most food-challenged areas of Pittsburgh how to cook and eat healthier meals.
When he brought his E.A.T. Initiative to schools and rec centers, he realized he'd found his perfect target audience.
Pierre knew that for too many school-aged kids, their last meal was at 1 p.m. Having tasted the free meals they received at school, he also knew they weren't eating very much or very well after 1 p.m. So, for years he's experimented with ways to solve their evening hunger pangs. The result? The "third meal" project. Everyone who heard the idea loved it, yet never enough to fund it.
The pandemic sparked him to do it himself.
Pierre and crew have served more than 2,000 people, one at a time, from 3 p.m. to 7 p.m. outside his North Side café, Arnold's Tea. It's not just for kids. Anyone can line up and grab a hot meal to go. Giveaways include fruit, a snack, juice and water.
"We're creating actual dinners: marinated chicken and rice with gravy, tortellini pasta, spaghetti and meatballs, roasted mixed vegetables," he said. "I'm just following all the tricks I've been teaching for years about creating easy, healthy meals."
Other organizations (including schools) have sent broccoli, potatoes and even their unserved meals. People have dropped off books and toys for him to give kids. He's hoping for more donations, particularly money to keep this going throughout the pandemic and beyond.
He's also hoping for copycats across Pittsburgh and across the country. In his minimal spare time, Pierre – an AHA volunteer – has begun writing a how-to guide.
"We need to do something to get this to the next level," he said.
***
If nothing else, this pandemic shows how connected we all are.
Everyone feels some level of fragility.
Or, as Abunaw put it, "People just want to feel a sense of security in something, and food is one of those basic needs."
With tension soaring and the economy sinking, the sense of security that comes from food is more precious than ever. Which is why the lack of it can be so gutting.
"The experience of going to stores and seeing shelves empty or not finding what's culturally relevant or affordable may be eye-opening for some people, but that's a daily reality for a lot of families," said King, of Food Forward.
"The difference now is that it's happening across the board. This crisis is affecting everyone. No matter how food secure you've been in the past, you're more food insecure today than you were yesterday, and you'll be more food insecure tomorrow too."
Wherever you live, people and organizations are helping feed others. Consider providing whatever support you can, even if it's simply saying thanks on social media.
A version of this story appeared on Thrive Global.
If you have questions or comments about this story, please email [email protected].
---