Adobe Connect Instructions
Adobe Connect enables anyone to view health lesson recordings, and it enables faith leaders to access supplemental materials and have the participants take the post
Please access the link using a computer (not a mobile device).
Instructions to test accessing Adobe Connect
Type in your name and click "enter room."
From the virtual meeting room please do the following:

You will see four items on the screen. These four boxes will be present each week (with different resources and links).

1. Health lesson video

2. Text EMPOWER to 46839

3. Post lesson quiz

4. Lesson materials


Here's what you'll need to do:
Watch the recorded video. This is where you will watch the health lesson videos each week.
To make the video full screen, click the button you see circled in the image below and choose full screen.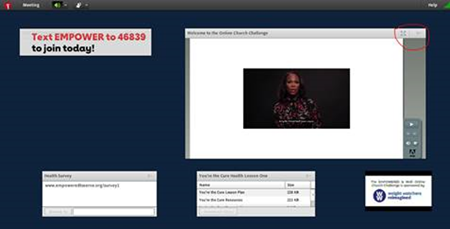 To exit full screen and return to the original Adobe homepage, click the button circled in red in the image below.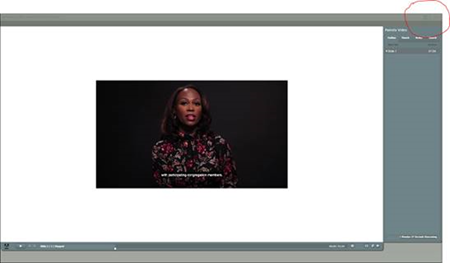 Before the health lesson, we encourage you to distribute the resource list and/or slide deck for your participants. These resources can be downloaded by selecting the resource and clicking "Download File(s)." These resources can be printed or distributed electronically.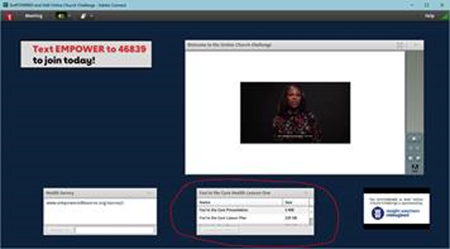 After you have watched the health lesson video, you will ask all participants to type in the quiz link provide into their mobile devices and take the quiz. The link will change each week.
Last, you will ask participants to text EMPOWER to 46839 to join You're the Cure. This will provide your church members with a way to take action outside of the classroom through advocacy efforts.
If you have questions about the using Adobe Connect, please email empoweredtoserve@heart.org
---